Haunted Peru
Peru is an intriguing and picturesque country, rich in culture and history. It is known for its mountainous terrain and for hosting ancient cultures whose legacies live on through the ruins they once lived amongst. With so many historic places of interest, it would come as no surprise to learn that Peru holds a number of ghosts. Here are the most haunted places in Peru.
5. La Casa Embrujada
The name of the first location on this list leaves nothing to the imagination. La Casa Embrujada translates directly to "The Haunted House." This ruin of a never-completed home remains perched on a hillside in the city of Cusco. Its ragged appearance screams ghosts, yet whether this home is actually haunted has torn many in opinion.
Many people claim that the spirits of the dead remain within the peeling, decayed walls of this towering house. While there are no specifics as to who may be haunting this home, many people claim them to be in pain. It is thought they are suffering, as their cries and screams of agony can be heard reverberating through the house in the dead of night.
Although these legends are prevalent, it seems others do not buy into the ghost stories. Clearly etched across the front of this property is a warning that reads, once translated: "This is not a haunted house." Could this be the truth or something simply to deter curious trespassers?
4. Government Palace
The Peru Government Palace stands protected in the heart of Lima. A grand sight that doesn't seem spooky at first glance yet holds some troubling secrets from the paranormal world.
Dating back to 1535 the Government building has had plenty of time to accumulate spirits, yet it isn't just ghosts thought to be haunting this property. Many of the staff who work within the building claim to have encountered a Duende in the carpark of the building. This mischievous being is similar to that of a goblin or elf and is thought to have scared many of the staff immensely.
Returning to more typical hauntings, the Government Palace is also thought to contain a ghost that primarily spends time on the second floor. This is even according to former president Alan García. He claims that this is likely the spirit of a former Governor from the past who was actually executed.
3. Gran Hotel Bolivar
The Gran Hotel Bolivar is one of the most popular hotels in town, not just for its famous Pisco Sours, yet also for ghosts. The hotel was built back in 1924 in the hopes of adding some glamour to the city and has stood proudly within San Martin Square since.
A number of spirits are said to have taken up residence within the building. Perhaps the most commonly sighted spirit here is that of a lady in white. She is often seen by both guests and staff gliding down the long corridors of the hotel before suddenly disappearing into thin air. Another woman, that of a suicide victim, is also said to haunt this hotel. She allegedly threw herself from an upstairs window at the hotel and has remained, unable to pass over, since.
The spirits of former employees are even said to linger here. Many people have claimed to sight both a bellboy and a ghostly security guard, still going about their past duties. Likely the most sinister and surprising of any of the ghost stories at the Gran Hotel Bolivar pertains to its two uppermost floors. These remain mysteriously blocked off to the public, slowly decaying with time. It is rumored that these upper floors were actually blocked off from entry since there were so many paranormal events to occur there.
2. Real Felipe Fortress
The Real Felipe Fortress is without a doubt one of the most haunted places in Peru. It has protected the coastline of Lima since the 1700s and seen its fair share of tragedy and suffering.
One of the most commonly sighted ghosts to appear within the fort is that of a white lady. She is typically said to manifest around the King's Tower at midnight. The spirit of a young boy has also been described as haunting the Governor's House. He seems to enjoy hiding away amongst the military displays that now fill this area. Whilst visitors commonly only capture a quick glance of this child, he is believed to be around 2 years old and wearing 1800s sailor-type garb. Yet another ghost lingers here. This is thought to be the spirit of a young soldier who took his own life by jumping from the Queen's Tower out of fear of an imminent battle. To this day his ghost is seen in the area of this tower and many have even been overcome within the sensation to jump from the tower themselves.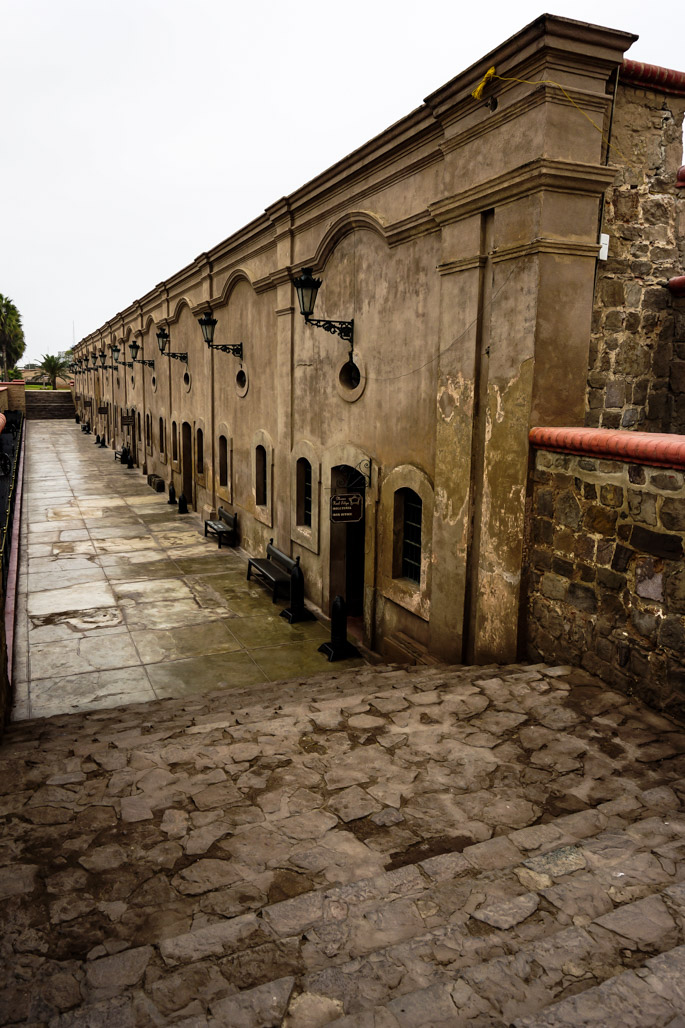 Understandably, the most haunted part of the Real Felipe Fortress is its dungeon. This long narrow space is nestled deep in the dark, dank depths of the King's Tower and would have been a horrendous place to exist. Anywhere up to 80 men would be crammed into the dungeon at a time, left alone to slowly rot and starve together. It's no wonder why many people still claim to hear the disembodied sounds of people suffering, footsteps when no one is around, unexplained bangs and strange light anomalies in this area.
Notable Mention: San Francisco Church Catacombs
It wouldn't be right to complete this list without a mention of the spookiest place you can find anywhere in Peru. While no ghost stories exist about the San Francisco Church's Catacombs, they are a place capable of striking fear into the hearts of many.
Although the church is worth visiting, what lies beneath it in underground crypts is truly the drawcard for many. Here, is a massive burial place filled with the remains of some 25,000 people's skeletal remains. This was used as a cemetery until 1808 and today remains as both a haunting and beautiful ossuary.
1. Machu Picchu
No place within Peru quite tops the sight of Machu Picchu. An awe-inspiring ruin left scattered upon a mountain-top laced with low hanging thick cloud, Machu Picchu certainly looks the part of a haunted destination.
This world wonder was built sometime in the 15th century by the Incas and is thought to have acted as a citadel and royal retreat for the then leaders. Luckily, this haunting ruin remained abandoned and concealed during the invasion of the Spanish upon Peru, leaving it surprisingly intact. Maybe this is one reason why the ghosts are said to have remained within this spiritual site.
Machu Picchu is known to have been a significant place for religion and it is the ghosts of former priests who are thought to remain to haunt this Peruvian treasure. Some have claimed to sight priests wearing traditional dress, performing rituals around the former areas of altars before disappearing.
Furthermore, the hike along the famed Inca Trail is also said to be haunted. Many people claim to have woken from their sleep while being strangled by the ghost of an Inca warrior. A truly terrifying experience!
Thanks for reading!
xoxo