The Most Haunted Places in Mexico
Mexico is a vibrant country with a diverse culture and an abundance of ancient ruins. The people of Mexico have an interesting relationship with death and many spooky legends to share. For this reason, one can discover haunted locations within most of Mexico's cities. But, with so much spookiness to explore, what are the most haunted places in Mexico? Find out below!
5. Museo De Las Momias, Guanajuato
For such a quaint and picturesque town, Guanajuato certainly boasts one of the more ghastly tourist attractions going around. In the heart of this small town lies the Museo De Las Momias, which translates to the Museum of the Mummies. A truly horrifying reminder of what awaits us all.
This exhibition of death sees the pristinely preserved, naturally mummified corpses of over 100 men, women and infants displayed in glass cases. Each of these bodies had been exhumed from the Saint Paola Cemetery after their families could no longer afford the tax placed on holding their deceased relatives in their not so final resting places. After it was found that the cemetery had the perfect conditions to naturally mummify these exhumed bodies, they were collected and eventually put on display in this rather macabre museum.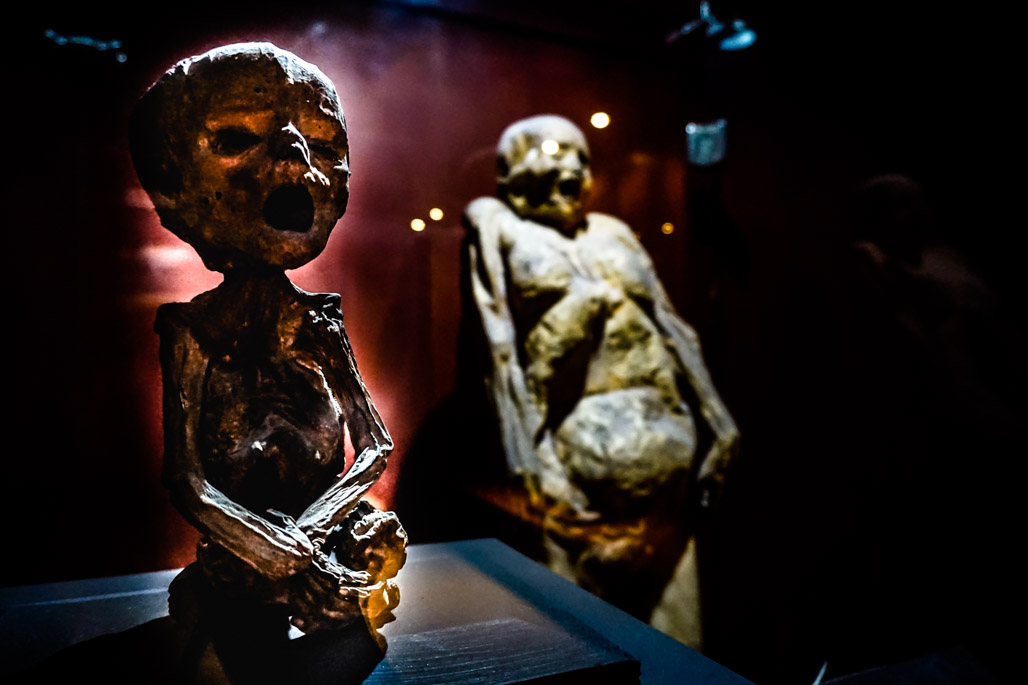 If the story of how the Museum of the Mummies came to be isn't the perfect storm for paranormal activity, I don't know what is! Those who believe in not messing with the dead may certainly buy into the rumors that the museum is in fact haunted. Stories of the disgruntled and disturbed dead roaming the halls of this museum after-hours exist. Some security guards even attest to this having experienced unexplained footsteps, voices and even seeing apparitions in the museum when no one is around.
Guanajuato is just a 4-hour bus ride from Mexico City and worth the trip. The Museum of the Mummies is able to be visited for less than $5US. Tours can be self-guided or done with a Spanish speaking guide. I also recommend walking up the stairs after visiting the museum to explore the Saint Paola Cemetery.
4. Misnebalam Ghost Town, Merida
Misnebalam was once a thriving town supported by Hacienda farming. It grew to around 200 occupants before its mysteriously sinister abandonment. Rumor has it that this now crumbling set of ruins was left behind by its occupants due to having too many ghosts! Yep, that seems like a pretty valid reason to leave a place behind.
Legend has it that Misnebalam is haunted by the spirit of a 9-year-old boy named Juliancito. His life is said to have come to the most tragic of ends. He supposedly committed suicide by hanging himself from a tree in town after enduring a sexual assault. Ever since his spirit has remained trapped to wander this desolate ghost town.
Juliancito's spirit is joined by that of Don Márquez, who was the former landowner of Misenbalam and viciously assassinated. The spirit of a priest and countless others are also rumored to exist at the ghost town. They are thought responsible for the many reported instances of paranormal activity, such as disembodied voices and light anomalies, that occur in the town.
Misnebalam is located a short 20-minute drive outside of Merida. It is easy to access and find as long as you are prepared to drive down a well-traveled gravel road.
3. House of Aunt Toña, Mexico City
One of the best known urban legends of Mexico City details a rather chilling ghost story. This story centers around a large mansion tucked away in the Chapultepec Forest. This was once the home to a rich and well-respected woman known as Aunt Toña.
Following the death of her husband, it is said that Aunt Toña slipped into a deep depression that caused her to become a recluse in her mansion. In order to give back to her community and in the hopes of quelling her depression, Aunt Toña decided to take in a number of street children, caring for the less fortunate within her mansion.
Despite Aunt Toña's kindness, the children she took into her home were always cruel to her and played constant, humiliating pranks at her expense. This legend has two different ends. The first states that Aunt Toña grew tired of the children's cruel pranks towards her and murdered them, later disposing of their bodies in the creek surrounding her mansion. The second ends with the children cruelly beating Aunt Toña to death in an attempt to locate riches within her mansion.
Regardless of the truth behind these tales, many locals do believe the house of Aunt Toña to be haunted. Some people have reported hearing the tormented cries of children echoing from the valley surrounding the mansion late at night. Others have even claimed to capture a glimpse of Aunt Toña's apparition peering out of the windows of her former home.
The House of Aunt Toña is quite difficult to locate. It can only be viewed from a distance now as it is a fenced-off private residence. The best views of the house can be found here: 19.404750, -99.221056 and 19.404222, -99.220667.
2. Chichen Itza, Yucatan
Chichen Itza is one of the largest, most important and visited Mayan sites in Mexico. It is dated at being around 1,500 years old and retains many structures from the ancient city that tell tales of a different time and culture, which viewed death in ways we couldn't comprehend.
Chichen Itza is was a place of blood sports and human sacrifice. Ritual killings and offerings were ways that the Mayan people could communicate with and pay tribute to their Gods. Some areas of interest concerning these killings are the Great Cenote (sinkhole), which contained many bodies and treasured artifacts, the Ball Court where ancient sport was played and the winning team's captain would be sacrificed and of course the great pyramids themselves, where the sacrifices of mostly prisoners of war are said to have taken place.
With a history so closely linked to death, it is no wonder why many people claim this ancient ruin to be haunted. There have been many reports of visitors hearing disembodied voices of the past and sighting the dark shadow figures of what are believed to be either highly regarded priests or possibly the spirits of human sacrifice victims all around the grounds of Chichen Itza.
Chichen Itza is one of the most visited attractions in Mexico. For that reason, I highly recommend going early as the park opens to get your shots before the hordes of tourists set in. To do this, I recommend staying in Piste, which is the closest town to the ruins and allows for a short walk to reach the site.
1. Isla De Las Munecas, Xochimilco
No list covering the most haunted places in Mexico would be complete without including the Isla De Las Munecas (the Island of the Dolls). This location consists of a small island hidden in the intricately woven canals of Xochimilco. This island stands out in comparison to those around it, being completely covered in the most disturbingly, disfigured dolls you have likely ever seen.
Legend has it that a man named Julian Santana Barrera decided to move to this island to live his life in solidarity. Upon arriving at this island he discovered the body of a deceased little girl, floating face down in the water. Soon after this discovery, it is said Julian also found a doll floating in the water just near her body. To honor this unfortunate little girl, he decided to remove the doll from the water and display it on the island. This was to set off a chain reaction that urged Julian to continue covering this island with dolls for the remainder of his life. All of this to appease the spirit of the little girl!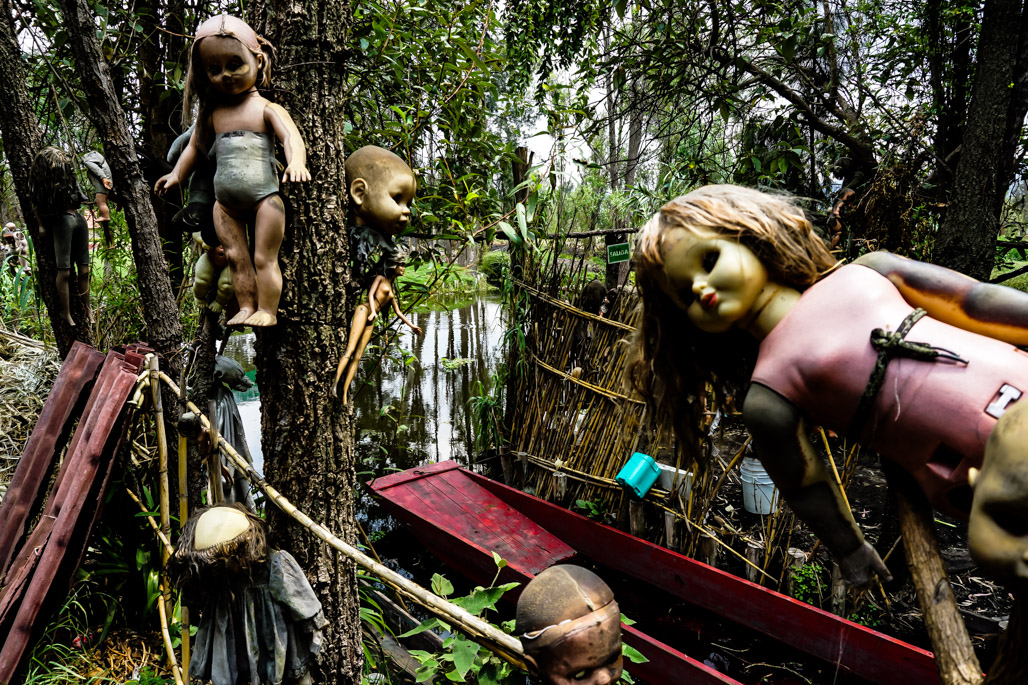 Hundreds, if not thousands, of dolls and years later, Julian's body was discovered floating dead in the water in the exact same spot he had discovered the little girl's.
With such a chilling backstory and continued stories of paranormal activity occurring on the Island of the Dolls, it is without a doubt the most haunted place in Mexico!
To reach the Island of the Dolls can be a tricky task and I highly recommend reading this article for tips on how to get there!
If you enjoyed this article you might also enjoy reading about the most haunted places in Mexico City.
Thanks for reading!
xoxo