Eastern State Penitentiary
Eastern State Penitentiary is a looming, gothic, castle-like structure which casts an ominous feel over Philadelphia's skyline. Taking a deeper look at Eastern State Penitentiary reveals its past is far more frightening than its appearance.
Eastern State first opened its doors to inmates in 1829 and was operational until 1971. When first erected, the building held the title of being the United State's most expensive and largest public structure. Its design was an advanced and revolutionary one. It contained toilets which could flush, running water and central heating, all of which were unheard of for its time. The penitentiary was built around a central post where guards could keep watch over seven cellblocks from one place. The type of incarceration that Eastern State offered was to be known as the Pennsylvania System or Separate System. This solitary confinement model was controversial, yet also used to design over 300 prisons all across the world.
Religious ideologies were used in the design of Eastern State, thought to instill penitence in its prisoners. It features church like hallways, small doors into cells forcing prisoners to bow as they enter and a single slitted skylight in the roof of each cell which symbolizes the Eye of God. The exterior of the jail has a different feel. It was intentionally created to appear as a dark castle, inducing fear in the public and waring them away from ever paying time within its walls.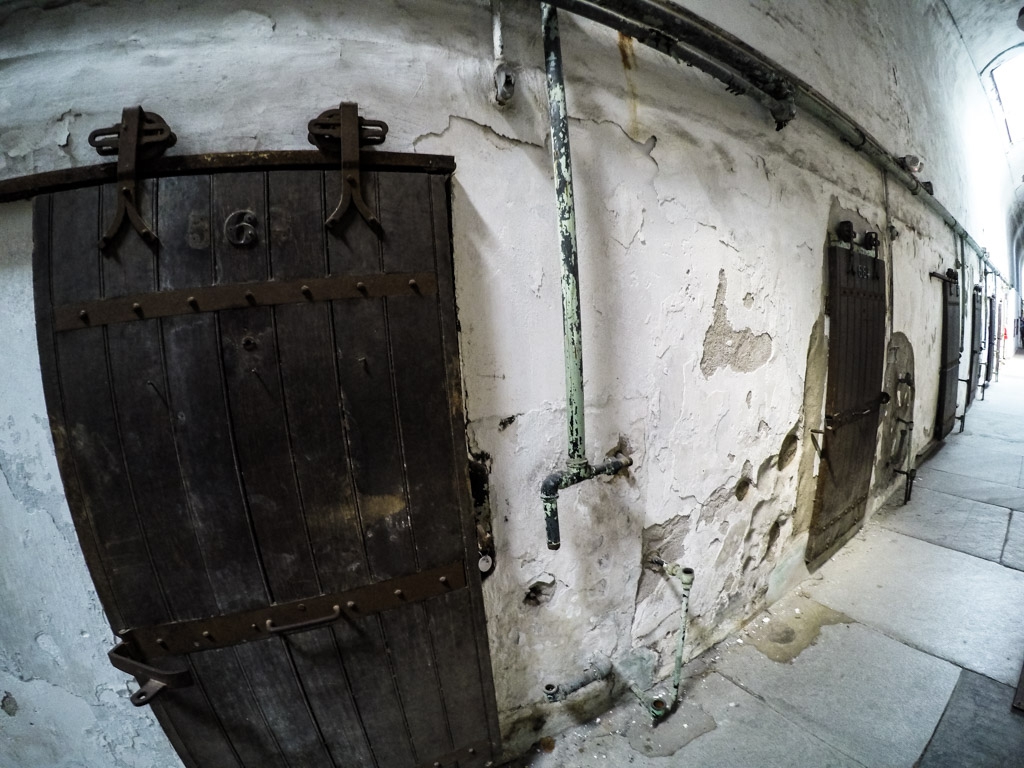 Solitary confinement was taken very seriously at Eastern State Penitentiary. The well intentioned model hoped to set prisoners on the straight and narrow, yet severely harmed their psychological state. The prison was designed to keep sound to a bare minimum. Double doored cells helped to prevent sound from entering the abode of prisoners, who were even required to wear a black-out hood over their heads each time they exited their cell. This reduced their ability to see and interact with other humans. Their only escape from within their cells was for one hour per day when they could use the exercise yard attached to the rear of their room. Guards were strategic in timing these exercise sessions, ensuring no two prisoners were in yards adjacent at the same time, for the possibility they may interact with one another over the tall separating wall.
Although these strict solitary conditions seem harsh, they were nothing compared to the torturous punishment dished out to those who dared to misbehave. Spending time in 'The Hole' or 'The Klondike' was one way guards took control of unruly prisoners. This was Eastern State's worst and smallest cell block, dug out underground cellblock 14. Here prisoners were left in a confined room, without light and little to no food or water for extended periods of time. Those unlucky enough to escape time in the hole, would have to face punishments such as the Water Bath, which involved being chained to the yard's walls after being covered in water. This practice was common in the Winter months since ice formed on the wet skin of prisoners. Others were forced to face the Mad Chair. This left prisoners attached to a chair with leather straps, bound tightly for days, restricting movement and blood flow to the point some even required later amputations. Then there was the Iron Gag. This was a contraption connecting inmate's bound hands to their tongues which were clamped within an iron gag. As those wearing the Iron Gag would struggle, their tongues would be painfully ripped and bleed.
With such brutal conditions within Eastern State Penitentiary it is no wonder many plotted their escape. Over 100 people attempted an escape during their sentences at Eastern State. A daring few were able to make it outside of the fortresses walls, with most only being free for a short while.
These attempted and successful escapes kept Eastern State in the media's spotlight. Yet, the jail was also well known for the inmates it kept locked up. Infamous criminals such as Al Capone and Wille Sutton are known to have done time at Eastern State, as well as Pep, a dog incarcerated for killing a cat. The public was also kept abreast on controversy surrounding solitary confinement debates. These were to drop off after 1913 when overcrowding finally forced the penitentiary to abandon the model, packing in more than one prisoner per cell.
After closing its doors in 1972 and spending years abandoned, the penitentiary is once again alive with activity from tourists and ghosts alike.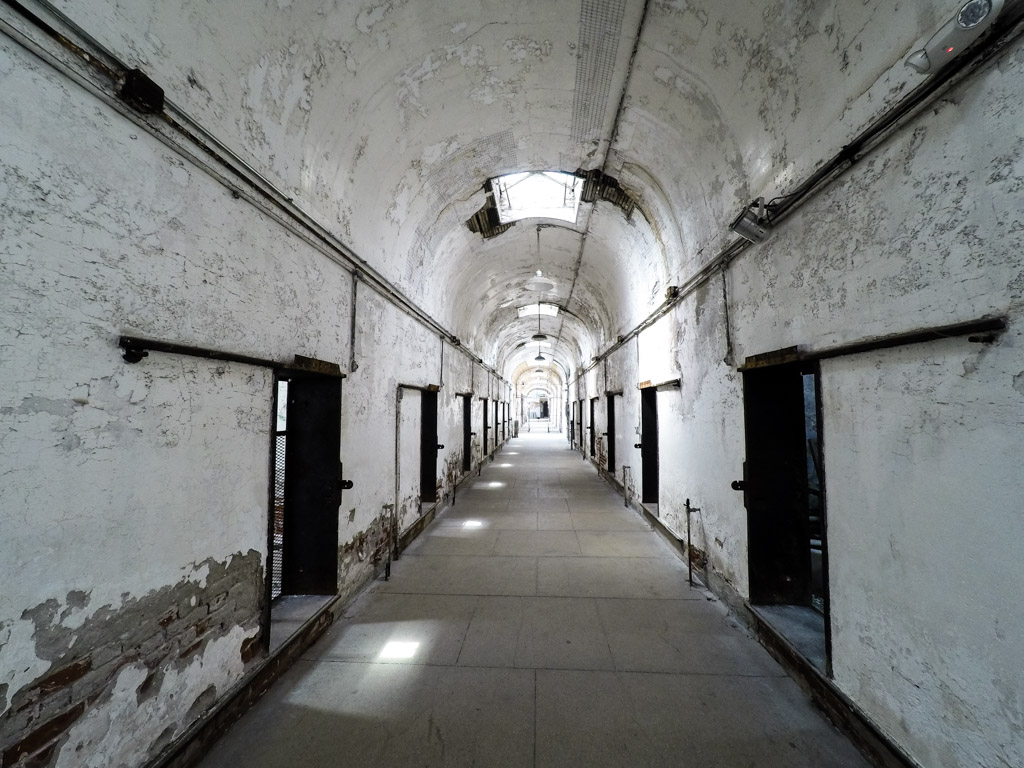 "The system here, is rigid, strict, and hopeless solitary confinement. I believe it, in its effects, to be cruel and wrong." – Charles Dickens, 1842.
Haunted Tales of Eastern State Penitentiary
A sordid, dark past paired with the frequent and extreme unexplainable occurrences make Eastern State Penitentiary one of the most haunted places in the world. Stories recounted by strangers with similar experiences lend weight to the legitimacy of paranormal encounters. While the building's relationship with death through murder, suicide and disease ensures the likelihood of trapped spirits within Eastern State.
Countless reports of disembodied screams, cries, whispers and ghostly footsteps have been reported by visitors unable to explain the sounds origins. The shadowed outline of what is believed to be a former guard will also appear in one of the watch towers from time to time. Cellblock 4 is known for its black shadow figure and presenting faces within its walls, Cellblock 12 is known for cackling, whispers and an apparition of a prisoner, and Cellblock 6 is known for dark figures which move quickly and sporadically across walls.
Other famous ghost stories centered around Eastern State Penitentiary include that of one of the United State's most notorious gangsters.
From 1929 to 1930 infamous Chicago mobster Al Capone was incarcerated at Eastern State Penitentiary. He served out his 8 month sentence for carrying a concealed weapon. It is rumored that Capone's arrest was set up as a way he could lay low after the St. Valentine's Day Massacre he was rumored to have masterminded. During his time in lock up he was treated differently to most of Eastern State's other inmates. He was allowed a far more lavish cell adorned with artwork and access to a music player. Although surrounded by creature comforts, Al Capone's stay was not a pleasant one. He complained constantly and believed that the ghost of a St. Valentine's Massacre victim, James Clark, was inside his cell with him.
Perhaps the most cited paranormal story from Eastern State comes from an unsuspecting locksmith. Gary Johnson was working within the decayed penitentiary during the 1990's in an effort to repair and restore parts of the building. Whilst focussing on restoration of old locks in cellblock 4, he came across a stubborn lock and struggled to open it. Upon successfully opening it he released something disturbing that he described as negative. He was met with a blast of cold air that left him completely paralyzed and witnessed the faces of tormented souls appear across the walls in the cell.
Visiting Eastern State Penitentiary
There's no shortage of historic and ghost stories that Eastern State Penitentiary has given life to. To explore these and the architectural marvel of the building a visit is essential.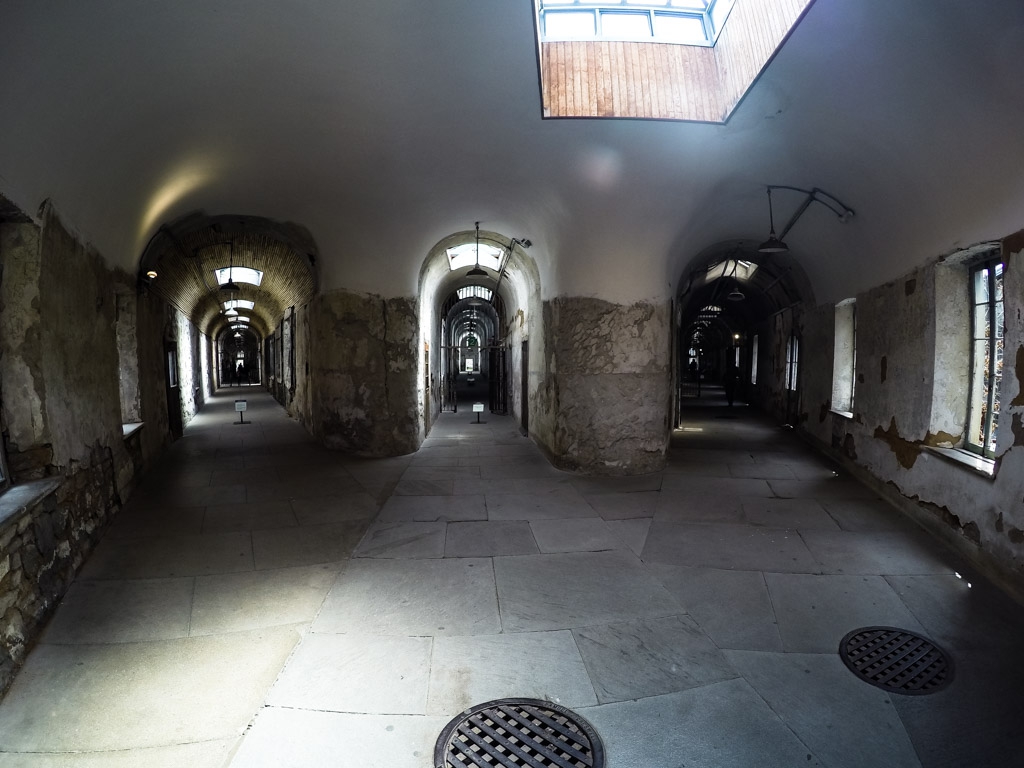 The fortress is located just a short distance from Philadelphia's city center at 2027 Fairmount Ave. Tickets to the now museum and historic site are available from Eastern State's website. Upon arrival, an audio tour is available, which can be taken at any pace. Although, I'd set aside a few hours aside to ensure seeing everything within the vast area. The audio tour is very informative but visitors are able to book into tours given by a guide in advance.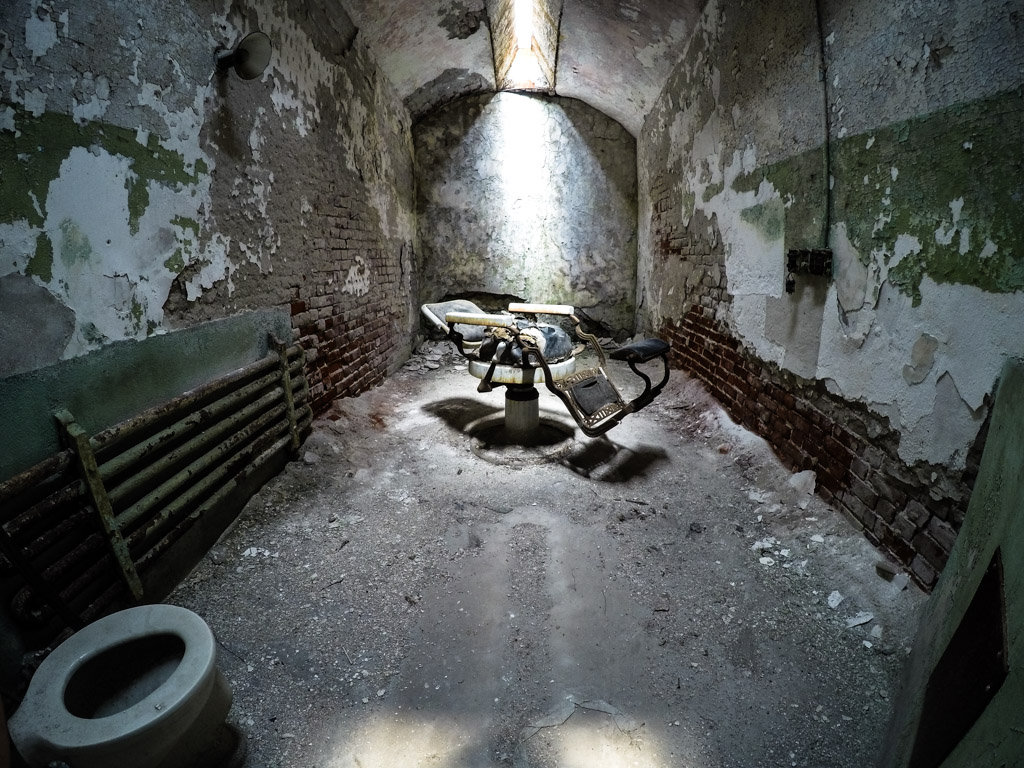 I recommend arriving early and visiting on a weekday is best to limit crowds. There's no food facilities within the jail but you can bring your own food to eat in the courtyard. Make sure to charge and bring along any photography equipment you may have as the penitentiary is eerily photogenic. Keep a look out for special signed areas that are only opened at specific times by a guide to small groups. These include the hospital ward (when I visited it was not yet open to the general public) and the Klondike/Hole. These guides will open up the closed area, take the group around, give a bit of background information and answer any questions guests have. Visit around Halloween to check out Eastern State's haunted house attraction Terror Behind The Walls.
Go visit Eastern State Penitentiary, you won't be disappointed!
If you enjoyed this read and are interested in other historically listed spooky places, check out my blog on the Trans Allegheny Lunatic Asylum.
Thanks for reading.
xoxo