Faust House, Prague
Prague is one of the most beautiful cities in Europe. Walking its streets places one inside a dreamlike landscape right out of a fairytale, yet the city also has a dark side. One of the most mysterious locations in Prague that have been touched by this darkness is a baroque palace known as Faust House. Many tales have circulated about this historic building, some of which involve the Devil himself.
The Scary Side of Faust House
Since the beginning of the 15th century, various alchemists have taken up residence in Faust House. Fear and limited understanding of their practices within the palace led the general public to associate their work with the Devil. It also allowed the rumor that the house was cursed to spread rapidly through Prague's population.
As the 19th century rolled around Faust House had developed notoriety and it was soon to gain more with the legend of Doctor Faustus being born. This legend told how Doctor Faustus was dragged through a hole in the ceiling within the palace by the Devil himself. Heading straight to Hell. Strangely, T\this hole was then supposedly impossible to repair and cover-up.
This was not the only terrifying legend to develop relating to Faust House. Despite the story of the Devil's presence at this notorious mansion, it is told that a young, homeless student took up residence in Faust House since it had been abandoned. He entered the house since the front door was left ajar and braved sleeping in the house, well aware of the legends surrounding it. He is even said to have attempted to cover the infamous hole in the ceiling with a piece of carpet he had found.
Legend has it that the young student would find a valuable coin within a bowl on a table each morning after sleeping the night in Faust House. This coin was able to provide the young man with sufficient food each day to keep him alive. Yet, greed was soon to get the best of the young student. After discovering some books detailing dark magic rituals, the student used this new knowledge to summon the Devil demanding he be left more than just a single coin each morning. This understandably angered the Devil who is then said to have dragged the young student to Hell through the same hole in the ceiling he had already taken Doctor Faustus through.
To this day the legends about Faust House remain prevalent in Prague and many strange occurrences have been reported to happen in this mysterious building.
Visiting Faust House
Faust House exists upon Charles Square in Prague. It is an interesting and beautiful building to visit though cannot be freely explored. Today, the building has been repurposed to function as a faculty hospital with the Charles University.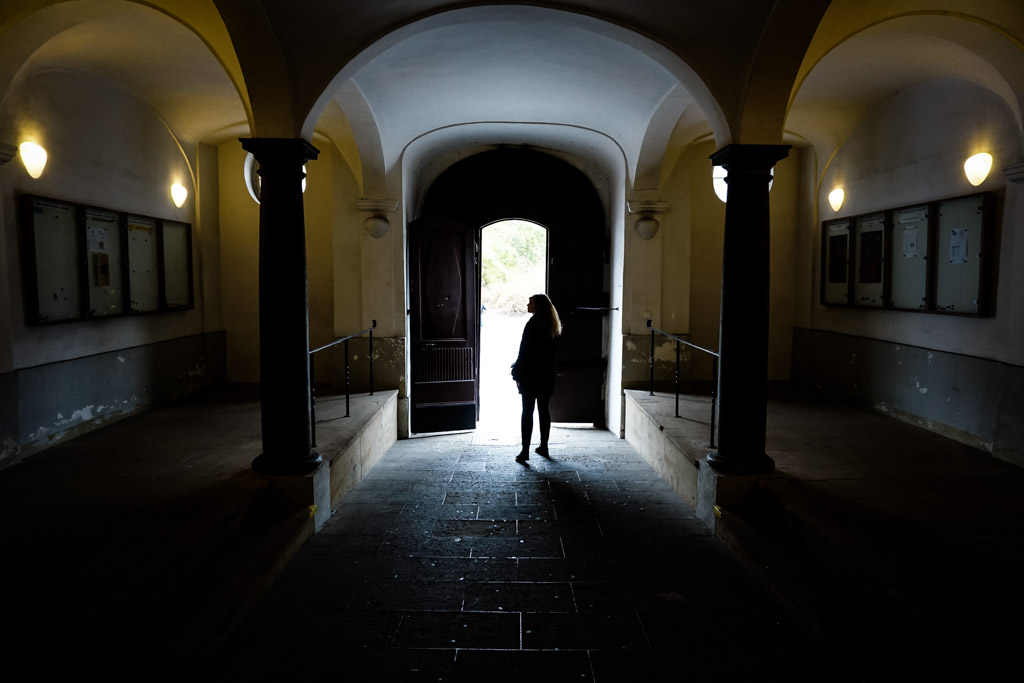 If you enjoyed this article, you might also like to learn about other scary and haunted places in Prague.
Thanks for reading!
xoxo