The Scary Side of Milan, Italy
Milan is one of the most picturesque cities Europe has to offer. Though its cafe-lined streets and striking architecture paint a welcoming scene for visitors, there is a darker side to the city to be discovered. Milan is a place where churches are filled with the dead on display and where marks of the Devil can still be seen.
Below is where you will find the 6 scariest places in Milan, Italy.
6. Duomo di Milano
The Duomo di Milano is one of the most glorious religious edifices in Europe. The grand cathedral is a sight to behold and that is without even stepping foot into its interior. The architecture of the building is intriguing and draws many tourists to the city, making it one of Milan's most popular destinations to visit.
It is the Duomo's connections to Satan that place it on this list of the scariest locations in Milan, Italy. It is rumored that the Devil made an appearance in the dreams of the man who was commissioned to have the cathedral made. Supposedly, he had asked for the church to be constructed as a way to worship Satan. Though the legitimacy of this story has been questioned, it is told that around 100 depictions of the Devil can be seen hidden within the grand exterior of the Duomo.
I tried to locate these and had some issues. Though many of the images sprawled across the facade of the church are quite dark, it didn't appear to contain many obvious depictions of the Devil. If you want to admire and search the church for yourself, you will find it at Piazza del Duomo, 20122 Milano MI, Italy.
5. San Bernardino Alle Ossa
Another place of religious significance makes this list for containing something particularly dark. The San Bernardino Alle Ossa is a rather unsuspecting church that contains a room filled with human remains.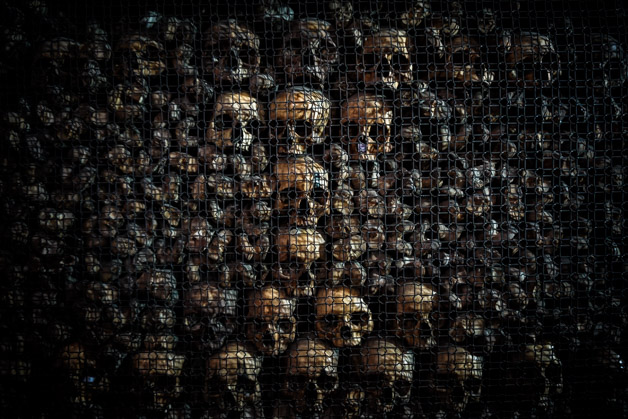 Located just around the corner from the Duomo, this particular church brings more scares to Milan from its Ossuary. This room is filled with thousands of human bones on display in elaborate designs. This crypt has skulls, femurs and an array of other bones displayed to create patterns, which rival many art forms. This room became necessary after a leprosy epidemic consumed the city during the 17th century. Many people have gained a sense of uneasiness when stepping foot into this room. Additionally, there are rumors that the skull of a young girl comes to life each November 2 on All Soul's Day. It is also told that her lively skull coaxes many of the others to join her and also come to life.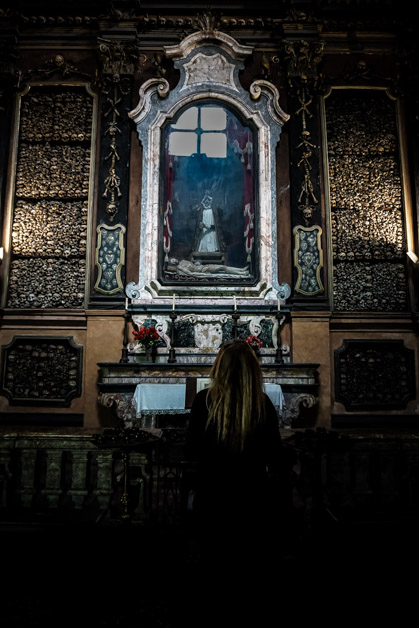 You can find this spooky ossuary at Via Verziere, 2, 20122 Milano MI, Italy.
4. Portinari Chapel
Our next scary location in Milan brings us to yet another church, known as the Portinari Chapel. Although this place is holy it also has links to the Devil, which have baffled art historians for quite some time.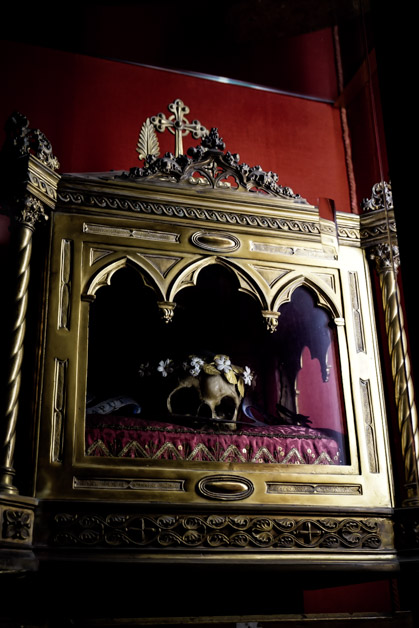 Within the Portinari Chapel rests a fresco, painted on a domed ceiling known as The Miracle of the False Madonna. Interestingly, this painting depicts the Virgin Mary holding a baby Jesus. However, what is most interesting is that both this holy mother and child display pointed horns growing from their heads. This has led many to believe that the painting has some demonic connections. This is all in addition to the many glass cases of human bones that are displayed within this church turned museum.
You'll find this scary Milan destination at Piazza Sant'Eustorgio, 1, 20122 Milano MI, Italy.
3. Via Bagnera
Though not as widely spoken of, Antonio Boggia is commonly referred to as Italy's answer to Jack the Ripper. Boggia actually started his reign of terror over Milan about 30 years before the Ripper captured the minds of the fear-filled people of London.
It was deep within the bowels of Milan that Boggia managed to kill many people. His favorite killing destination is rumored to still be in existence and densely populated to this day. Via Bagnera is a thin pedestrian-only walkway that remains notorious for these murders. It is here that Boggia killed a number of unsuspecting victims, who are still thought to remain in the area, haunting it, to this day.
You can find this place at Via Bagnera 20123 Milano MI, Italy.
2. Column of the Devil
Just outside of the Basilica di S. Ambrogio stands a tall and ancient pillar. Most would pass by this object without giving it a second thought, while it remains a place of fear for some.
At the base of this stone column are two round puncture marks. These holes are thought to have been caused by the Devil himself. Legends have it that the Devil became fed up with all the good deeds that Saint Ambrose was accomplishing. So much so that he decided to pay him a visit and lure him into a life of temptation. After a great battle broke out between the Devil and the Saint, the Devil's horns became driven into the Column. One telling says that this was achieved by the Saint ramming the Devil's head into the Column, another tale tells how the Devil charged at the Saint, missing his target, instead striking the pillar. To this day some still claim to smell sulfur in the area, leading to the belief that the Devil may still linger there.
You'll find the Basilica di S. Ambrogio at Piazza Sant'Ambrogio, 15, 20123 Milano MI, Italy. The pillar is located just outside.
1. Palazzo Carmagnola
In the place of the Palazzo Carmagnola now sits a theater, cafe and other trendy businesses ready to welcome guests. What many do not realize is that this place used to be a 14th-century palace and is now one of the most haunted places in Milan.
This place supposedly holds two resident ghosts. One of those is its former owner, the Count of Carmagnola, Francesco Bussone. The other of these supposed ghosts is the lady of Ermine, Cecilia Gallerani. It is said that these ghosts are particularly active on All Soul's Day (November 2) and have shown themselves to many through the upper windows of the palace's former courtyard.
You can find the former Palazzo Carmagnola at Via Rovelli, 2, 20121 Milano MI, Italy.
If you liked this article and are looking for more haunted places in Italy, I suggest checking out the ghosts of Rome.
Thanks for reading!
xoxo