Haunted Places in Salem Massachusetts
Salem, Massachusetts is an interesting place, synonymous with all things spooky. It is best known for the relatively short time period that its infamous Witch Trials ran for, yet has far more sinister and scary tales to tell. Below is a list of the most haunted places in Salem, which you can visit.
The Old Burying Point Cemetery of Salem
A ghost tour of Salem is not complete without a visit to the Old Burying Point Cemetery. This cemetery sits on a small plot of land sporadically dotted with worn, decrepit gravestones. It is actually the second oldest cemetery in the United States and because of the dark history linked to it is also thought to be one of its most haunted.
Salem is of course most famous for its history of the Witch Trials. The Old Burying Point Cemetery is linked to that history by holding some notable characters that influenced this notorious era. The cemetery holds the remains of the man known as the Hanging Judge, Jonathan Hawthorne. He is suspected of being responsible for one of the cemeteries hauntings, showing up in unsuspecting tourists photographs.
The Old Burying Point of Salem is also thought to manifest many other paranormal events. There are many people who have reported hearing disembodied voices, sighting unexplainable light anomalies and experiencing sudden temperature drops as they trudge through the dated grave stones.
Looking to visit the haunted Old Burying Point Cemetery of Salem for yourself? You will find this creepy location along Charter Street, Salem.
House of the Seven Gables
The House of the Seven Gables is a beautifully restored, historic home in Salem Massachusetts. Though it is one of the town's most picturesque and visited tourist attractions, it also boasts high instances of paranormal activity, which are little publicized and known.
Built in between 1667 and 1668 the house was originally known as the Turner-Ingersoll Mansion. It remained within these prominent Salem families for generations. Years later, Nathaniel Hawthorne published his famous work The House of the Seven Gables based on the home, where he'd spent much of his time visiting his cousin. The books popularity was to forever change the name this mansion went by.
1908 saw philanthropist Caroline Emmerton purchase the property. She worked to restore the house to how it was depicted in the novel The House of the Seven Gables and add additional historically important homes from Salem to the grounds. Today, her vision remains, as the home functions as a popular museum.
Though the museum steers away from promoting its paranormal side, the home's long history has given life to a few ghost stories. Many of the home's appliances supposedly have minds of their own. Apparently, lights turning on and off as well as taps and other electrical appliances on their own accord is a common occurrence. The spirit of previous owner, Susan Ingersoll, is said to haunt the House of the Seven Gables. She has been spotted throughout the home and is commonly seen peering out of its windows before vanishing into thin air. It is also told that the entity of a young boy haunts the premises. He is usually seen in the home's attic or playing in the gardens.
Wish to have your own paranormal experience at Salem's Haunted House of the Seven Gables? You can find and visit the museum at 115 Derby Street, Salem.
The Witch House
One of Salem's most iconic and recognizable haunted houses is aptly named the Witch House. Though this property never actually housed any 'real' witches, it does remain the only surviving structure with direct links to Salem's Witch Trials.
The home is rumored to have been built back in 1642 and during the Salem Witch Trials was home to Judge Jonathan Corwin. This man presided over many of the Witch Trails and subsequently sent many people to their deaths at the gallows.
Though not haunted by witches the Witch House is rumored to be haunted by members of the Corwin family. During their time within the home, their family was touched by death many times, loosing 8 out of their 10 children before adulthood.
This history has led to many paranormal occurrences. Sudden temperature drops, blasts of freezing cold air, being touched by invisible presences and disembodied voices have been reported from within the home. It is also commonly believed that some of the Corwin's dead children may still linger within the home.
Today, the Witch House serves as a museum, preserving the history of Salem's Witch Trials. The museum is open for seasonal visits and you can locate it at 310 Essex Street, Salem.
Hawthorne Hotel
Salem's Hawthorne Hotel is one of the most beautiful buildings in town and thought to be one of the most haunted.
It was built in 1925 but has a history linked to hauntings pre-dating its construction. The land on which the Hawthorne Hotel now stands was actually once an apple orchard owned by Bridget Bishop. Bridget was one of the first women in Salem accused and executed for witch craft during the Salem Witch Trials back in 1692. Many believe that her spirit remained on the land her orchard once stood and now occupies the Hawthorne Hotel. Some think Bridget's ghost is the one commonly seen on the sixth floor, materializing in front of room 612 before disappearing. Curious smells of apples baking also waft through the hotel, despite no apples in sight are also attributed to her spirit's presence.
Another room within the hotel is rumored to be extremely haunted. Many guests staying within Room 325 have experienced paranormal activity. It is thought that the spirit of a baby or young toddler dwells within the room, waking guests in the middle of the night with ghostly cries. Taps and lights are also reported to turn on and off on their own accord.
Furniture within the lobby has also been said to move around by itself and the hotel's ties to The Salem Marine Society may cause other hauntings.
If you are looking to check into a real haunted hotel in Salem, head to the Hawthorne Hotel located at 18 Washington Square West, Salem.
Bunghole Liquors
Salem's local liquor store has several kinds of spirits on display. Bunghole Liquors boasts a particularly interesting history that has led to the belief that it is one of the most haunted establishments in Salem today.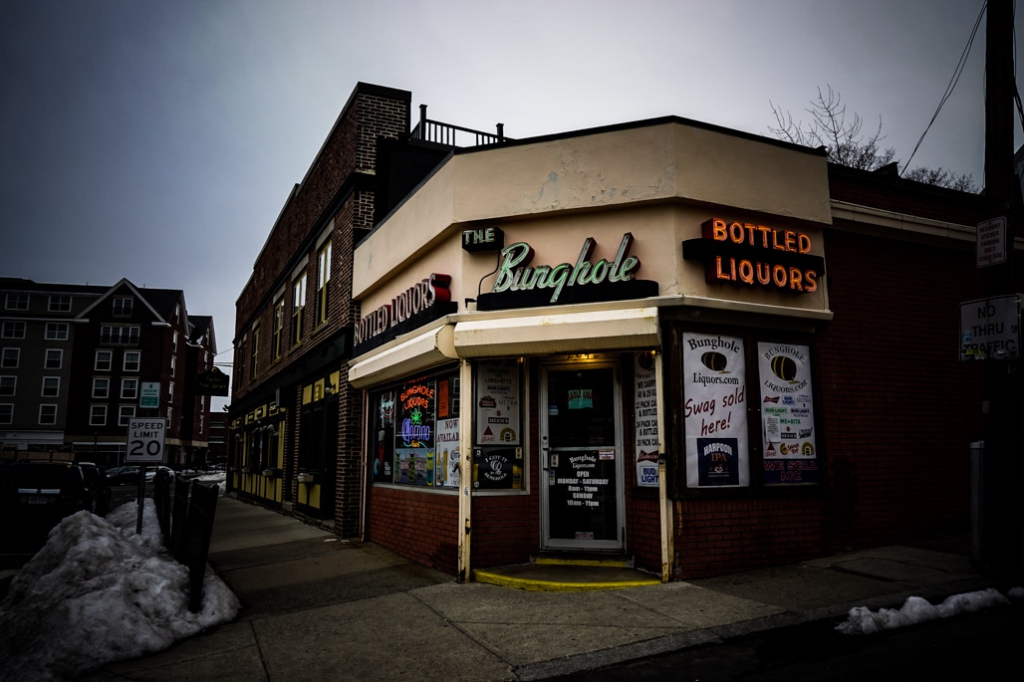 In a past life the building was a funeral parlor, which transformed into a macabre speakeasy during prohibition. It is told that locals would drink illegal booze in the basement alongside embalming equipment.
As prohibition came to an end, the building was again repurposed into a liquor store, which it continues to operate as today. The current owner asserts that his store is haunted and it isn't too hard to imagine.
The ghost of a woman is said to linger within Bunghole Liquors. No one is quite sure of her identity, yet her apparition is usually spotted passing by the wine racks. There is supposedly also the ghost of a deceased cat, which also frequents the store.
Looking to buy some spirits in Salem and possibly sight one too? Check out Bunghole Liquors at 204 Derby Street, Salem.
Wicked Good Books
With so many reported hauntings around the town of Salem it will come as no surprise that it also sports a haunted book store. Wicked Good Books is commonly cited as one of Salem's most haunted places and it holds some alluring mysteries, which could be connected.
Recent renovations, which were undertaken when the store was purchased by a new owner, uncovered some troubling things. Hidden tunnel systems underneath the store were discovered, which lead to Derby Square. These were apparently used to smuggle goods and humans many years ago. What is most troubling is that there were human remains found within the tunnels and there are rumors that two fugitive slaves may still be entombed down there.
This terrifying discovery was able to shed a little light onto why paranormal events, such as poltergeist activity, were happening within Wicked Good Books.
Looking to check out Salem's haunted bookstore for yourself? You'll find Wicked Good Books at 215 Essex Street, Salem.
Murphy's pub
Sharing space with a cemetery is never a good idea if you're one to spook easily. Murphy's Pub backs directly onto Salem's Old Burying Point Cemetery and has spooked many over the years.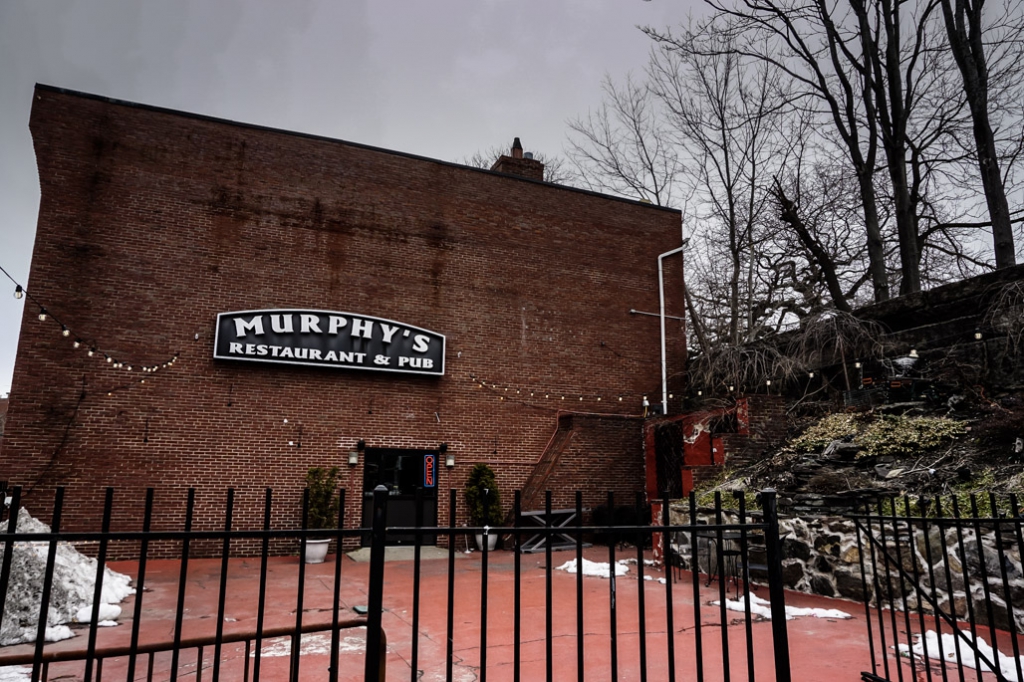 Disturbingly, a child's coffin once famously burst through the cemeteries retaining wall, landing in the pub's dining room. It's pretty easy to imagine this location being haunted.
There has been multiple sightings of a woman wearing blue Victorian era clothing hanging around the back corner of the cemetery near Murphy's Pub. Many others have also sighted the apparition of a young boy in the same area holding onto a picnic basket.
Staff members have also allegedly witnessed the ghost of a lone female within the pub late at night.
Looking for one of the spookiest places to drink or dine in Salem? Head to the haunted Murphy's Pub at 300 Derby Street, Salem.
Joshua Ward House
The Joshua Ward House is another piece of Salem real estate that is famously haunted by a prominent Witch Trial character, despite being built after that point in time.
Joshua Ward built this house sometime in the 1780s. It was a grand home and has held many different purposes over the years, housing various hotels and businesses. Throughout its long life it has been the scene of numerous paranormal activity reports and is home to some infamous ghosts.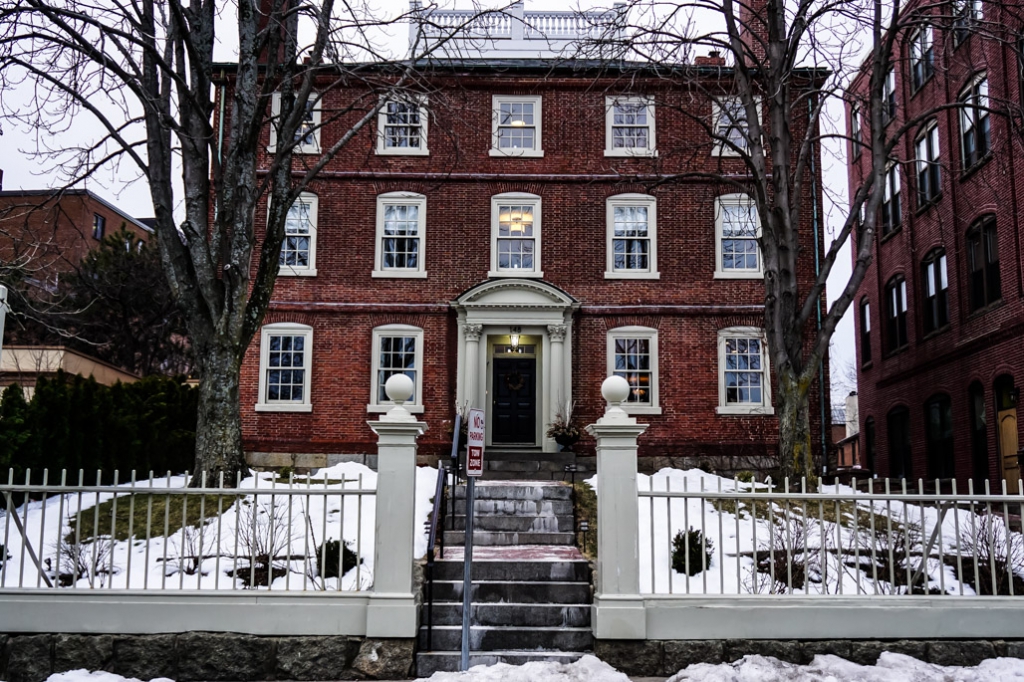 At one point in time the land which the Joshua Ward House sits upon was owned by George Corwin. Corwin's infamy lies In his role as Salem's sadistic sheriff during the time of the Salem Witch Trials. It was during this time he gained the nick name 'The Strangler' for his inhumane execution and interrogation methods. In 1697 George Corwin suffered a fatal heart attack. After his death, his body was buried in the cellar of his own property, since his family was afraid of what locals would do to the hated man's body. His body remained buried for many years before being exhumed and relocated to a nearby cemetery.
Many believe that the Sherriff's spirit has remained in the area he once called home and has since moved into the Joshua Ward House. There have been many reports placing his ghost sitting next to the property's fireplace, resting in a rocking chair. Most disturbingly, many have claimed to feel the sensation of being choked by unseen forces. This phenomenon, along with poltergeist activity is generally thought to be George Corwin's spirit acting out.
It is also thought that some of Corwin's victims, who suffered at his hands during the Witch Trials, also haunt the Joshua Ward House. One of these is an entity of a disgruntled woman whose identity remains a mystery. Those who have sighted her ghost describe her as having ratty, out of control, long black hair. She has been spotted by many roaming the winding corridors of the building and has even turned up in photographs. Another spirit who suffered a traumatic death at the hands of Corwin is said to haunt the Joshua Ward House. Giles Corey was falsely accused of Witch Craft during the trials. In order to usher a confession from him, he underwent the torture technique of 'pressing.' This involved heavy stones being laid upon his chest until he was no longer able to breathe and died. It is rumored that Corey's unhappy ghost remains restless within the property. He is thought responsible for creating messes within the home, moving objects out of place, mysteriously melting candles and creating cold areas in rooms.
With such heavy history staining the land on which the Joshua Ward House sits, it is no wonder why the property is considered one of the most haunted places in Salem. Today, the home has been newly converted into a bed and breakfast, known as the Merchant. If you dare to spend the night there, you can find Salem's haunted Joshua Ward House at 148 Washington Street, Salem.
Visiting Haunted Salem
Salem is a place with a very rich history that extends far beyond the relatively short time period the Salem Witch Trials ran for. Today, it has built much of its tourism around the Witch Trials and offers up plenty of kitschy, yet spooky activities, particulary around Halloween.
I hope you find this list of real haunted places in Salem of interest. I'd love to hear your thoughts on them in the comments below and whether you know of any worth adding. You can also watch a video I created showing highlights of this list. If you're looking to plan a visit to Salem's most haunted locations, I recommend checking out the Salem Ghost Tour. If you want to check out other nearby haunted places, my blog on the most haunted cemeteries in Boston is a great place to start.
Thanks for reading!
xoxo