THE MISSOURI STATE PENITENTIARY
The Missouri State Penitentiary is a place with a chilling and gruesome history, located in the state capital of Jefferson City, this abandoned penitentiary operated for nearly 168 years, during which time it was the site of the most unimaginable violence and horror. Over 2000 people died on site, and the prison was known for its torture and abuse by both inmates and guards. Inmates were isolated in solitary confinement cells for up to 17 years, within total darkness causing blindness or driving many of them mad. The Missouri State Penitentiary sits along the Missouri River, serving as a chilling reminder of the atrocities that occurred within its walls.
Having held some of the most notorious criminals in American history, including Pretty Boy Floyd, anarchist Emma Goldman, and murderer James Earl Ray, who escaped before assassinating Martin Luther King Jr. The prison has executed over 40 people, including Bonnie B. Heady, who was put to death along with partner Carl Hall in 1953 for the kidnapping and murder of a child. In 1954, a riot resulted in several staff members being murdered by inmates. The prison closed its doors in 2004, ending nearly 170 years of horror and violence that earned it the notorious reputation of the "bloodiest 47 acres in America," there isn't an inch of this facility that hasn't seen bloodshed.
GHOST STORIES OF THE MISSOURI STATE PENITENTIARY
Regarded as one of the most haunted places in America, many visitors to Missouri State have experienced the feeling of being watched and sighted shadow figures moving in and out of cells. The prison has always been known for its paranormal activity, but since its closure, the ghostly presence has increased tenfold, further adding to its unnerving atmosphere.
Housing Unit 1 is a particularly active area of the prison, with full bodied apparitions of female prisoners walking into cells and EVPs of chilling phrases like "somebody cut me apart."
The gas chambers are where Bonnie B. Heady's ghostly presence is felt the strongest. She is believed to still haunt the gas chamber to this day with visitors often hearing her whispering "love" just moments before the gas is released. A total of 40 people were put to death in these gas chambers, its no surprise that this area incites feelings of distress and dread. It is said that the guard would knock three times before releasing the gas and visitors have reported hearing this knocking sound when entering the chambers.
The dungeon cells located in Housing Unit 4, also called solitary confinement, are another hotbed of paranormal activity. Firebug, Johnson was kept in the dungeon cells for 17 years after starting a fire that killed four fellow inmates. People have described hair getting tugged, ankles grabbed and vicious scratches while in these cells. The pure darkness down there makes it even more unnerving for visitors. A menacing entity with half a face has been known to appear here, transferring his pain and distress onto visitors until they are so overwhelmed they must leave the area.
The basement of Housing Unit 3 hold the 3D Solitary Cells. Many refuse to go down there alone because the energy in this area feels aggressive and violent. The entity here is said to take on any size or shape, it can sound like a child or someone's sister making it particularly uncomfortable for women. Visitors have also noted an 8-foot-tall shadow figure that sometimes appears as a full apparition opening its mouth and silently screaming until left alone.
Cell 18 on Death Row is another hotspot for paranormal activity. This was Bonnie Heady's cell before she was sent to the Gas Chamber, cell 20 is where her partner Carl Hall was housed. Visitors report feeling an eerie presence in this area as if they are being watched by the ghosts of those who were executed.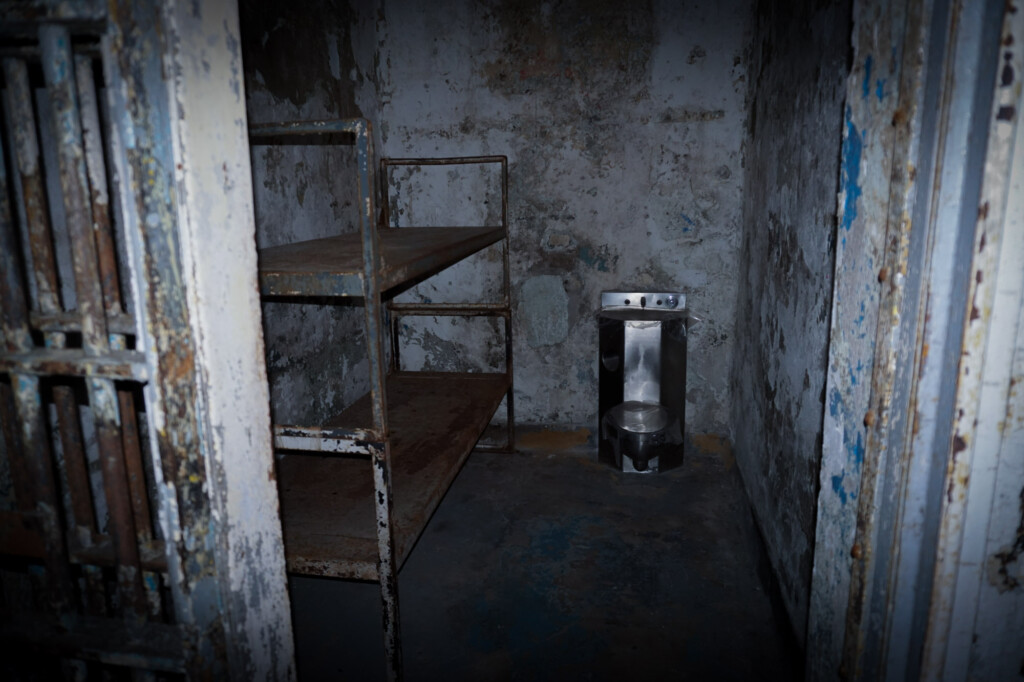 VISITING MISSOURI STATE PENITENTIARY
With all these ghost stories and supernatural activity, it's no wonder the Missouri State Penitentiary remains a frightening destination for those seeking an encounter with the other side. The prison wears its haunted history like a shroud, with the stories of its violent past still echoing through its halls. There is a range of ghost and paranormal tours available including, short tours, private tours and overnight tours. There are different experiences available to suit any paranormal enthusiast. The ghostly presence is palpable and visitors to this haunted prison will feel like they are being watched by the ghosts of the past. The eerie atmosphere will leave you with a real sense of dread that lingers long after your visit has ended.
If you have enjoyed reading about the haunted Missouri State Penitentiary you may also be interested in reading about the ghosts of The Eastern State Penitentiary.
Thanks for reading!
XOXO