Haunted Las Vegas
Whilst Las Vegas is commonly referred to as Sin City, it could also double as a city of ghosts. Many people make the pilgrimage to Vegas with the intention of trying their luck with gambling, seeing a show, engaging in debauchery or sometimes far more sinister deeds. It seems that the blood-soaked past of Las Vegas may have caught up to it and resulted in numerous hauntings. Here is where you can find the most haunted places in Las Vegas.
10. The Mob Museum
The Mob Museum is one of the most visited attractions in Old Vegas. It has taken over the now converted former courthouse of Las Vegas to illustrate and immortalize the seedy criminal underbelly that was once responsible for running the town. In a humorous twist, the courthouse was actually the place that saw many of these mobsters prosecuted.
Although, times have changed and the days where these crime lords reigned supreme has come to an end, some are still thought to linger. Many people believe that some mobsers' souls may have stuck around to haunt the former courthouse and make their presences known. Countless reports of paranormal occurrences after hours have been reported by staff guarding the Mob Museum.
For a small entrance fee, you can visit the haunted mob museum for yourself at 300 Stewart Ave, Las Vegas, NV 89101.
9. Excalibur
Excalibur Hotel and Casino draws many through its doors with its castle-like exteriors and medieval themed indoor rooms. Opening in 1990 along the strip, the Excalibur Hotel has had plenty of time to accumulate a couple of resident ghosts.
Many people have reported being disturbed by an unseen presence when walking along the 10th-floor corridors. They report feeling as though someone is following them, even when no one else is around. Poltergeist activity has also been reported throughout the hotel, with furniture appearing to move on its own accord. In addition, some people have reported experiencing unexplained malfunctions of their electronic equipment within the hotel.
You will find the supposedly haunted Excalibur Hotel at 3850 S Las Vegas Blvd, Las Vegas, NV 89109.
8. Madame Tussauds
Madame Tussauds is one of the most recognizable attractions to grace the Las Vegas strip. It houses many wax figures depicting celebrities and important people within. During the day, it bustles with tourists eager to snap a life-like photograph with their favorite big names, whilst at night it bustles with spirits.
The Madame Tussauds venue actually occupies the space which formerly made up the Old Copa Room. It is believed that some spiritual energy from this point in time has ingrained itself within this space. Staff who work inside the attraction after hours have reported hearing the sounds of unexplainable laughter, the clinking of glasses and even sighting the apparition of a man dressed in 1970s style clothing passing through the area.
You can visit this haunted attraction in Las Vegas for yourself at 3377 S Las Vegas Blvd #2001, Las Vegas, NV 89109.
7. Caesar's Palace
Caesar's Palace is one of the most opulent and extravagantly themed hotel-casinos on the Las Vegas strip. It is an omen to the power and grace of the ancient Romans and spares no expense to represent this era of time all throughout its grounds. What many people do not realize though, is that the building is thought by some to be haunted.
The women's bathroom is one place of interest, where the paranormal is concerned. Many visitors have experienced and reported that the motion sensor activated taps would turn on by themselves when no one is around. Furthermore, at one point in time, the casino was thought to be home to a cursed and potentially haunted Craps table. Legend has it that this table paid out in the favor of gamblers for an obscene amount of time. After the casino had lost money from this table for a record 13 months straight, they took action to remove and destroy this cursed table. Much to the disappointment of many loyal gamblers.
You can try your own luck at this haunted Vegas destination at 3570 S Las Vegas Blvd, Las Vegas, NV 89109.
6. The Westgate
The Westgate, formerly the Las Vegas Hilton, is a grand old hotel down the quieter end of the strip. It pays homage to its past and presents a neat and charming environment to visitors and regular gamblers alike. It is also thought to house one of the most famed and spoken of ghosts in Las Vegas.
Back in the good old days, The Westgate was actually a place that Elvis Presley frequented and performed. Since his passing, many people have reported that Elvis may have returned to and settled in at the hotel. Claims that people had seen Elvis, sensed his presence or even heard him at this hotel exist. He is most commonly sighted around the showroom and its backstage area or the hallways of the hotel's higher-level floors.
You'll find the Westgate Hotel and possibly the ghost of Elvis at 3000 Paradise Rd, Las Vegas, NV 89109.
5. The Flamingo
The Flamingo Hotel and Casino is a true ode to the past. It retains much of its old charm, while still having all the modern amenities expected of any high-class hotel.
The Casino's past actually saw it opened by one of the most notorious mobsters ever to roam Vegas, Bugsy Siegel. Since he was killed in 1947, many people claim that he may have returned to the hotel to wander its premises as a ghost. There have been countless reports from people claiming to have encountered the deceased gangster within the Flamingo. His apparition is most commonly sighted around the pool area, the presidential suite and the wedding chapel, which was actually his former living quarters.
You can visit the Flamingo Hotel and Casino for yourself at 3555 S Las Vegas Blvd, Las Vegas, NV 89109.
4. The Luxor
The Luxor is one of the most striking and visually impressive hotel-casinos along the Las Vegas strip. Its pyramid-like design has drawn many through its doors, though not all have been able to leave alive.
Some say the Luxor may indeed be cursed. This theory stems as far back to the pyramid casino's construction. It is said that at least two construction workers died in fatal accidents while building the pyramid. To this day, rumors exist that their souls may continue to remain trapped within the Luxor. In addition to these deaths, it is told that two more people had visited the hotel and committed suicide by jumping from the upper-level hallways, which look openly above the casino floor below. The spirits of these suicide victims are rumored to roam both the 14th and 26th-floor corridors. They are thought responsible for providing guests with cold chills and the sensations of breath coursing down the back of their necks.
Visit the Luxor yourself at 3900 S Las Vegas Blvd, Las Vegas, NV 89119.
3. Circus Circus
Circus Circus is one of the older hotel-casinos along the Las Vegas strip and would have seen its fair share of strange occurrences. Being one of the most family friendly places in Vegas, it seems fitting that their hotel's ghost story tragically features a child.
Rumor has it that Room 123 of this hotel is the most haunted. It is told that it was once the site of an unfortunate murder-suicide, which saw a mother shoot her young son and then herself. To this day, many believe that this woman and child remain in the room, searching for the boy's father. Additionally, guests have claimed to hear cries for help coming from empty rooms and the poker area when no one is around. The words 'help me' have even reportedly been drawn into the steamed up mirrors of guests' bathrooms.
You can try your luck at the haunted Circus Circus hotel at 2880 S Las Vegas Blvd, Las Vegas, NV 89109.
2. Zak Bagans' The Haunted Museum
An interesting and unique museum also resides within Las Vegas and makes this list for containing a vast collection of haunted objects. Zak Bagans, host of the paranormal TV show Ghost Adventures and lifelong collector of haunted objects opened up this museum. It showcases an extensive assortment of oddities and cursed items, all within a haunted house with previous Satanic connections.
Within the museum are thought to be some of the most haunted objects in the world. These include the infamous Dybbuk Box (thought to contain a demonic attachment), numerous haunted dolls (including Peggy who is famous for causing harm to people who come into contact with her) and the staircase from the 'Demon House' (a place rumored to contain many demonic presences).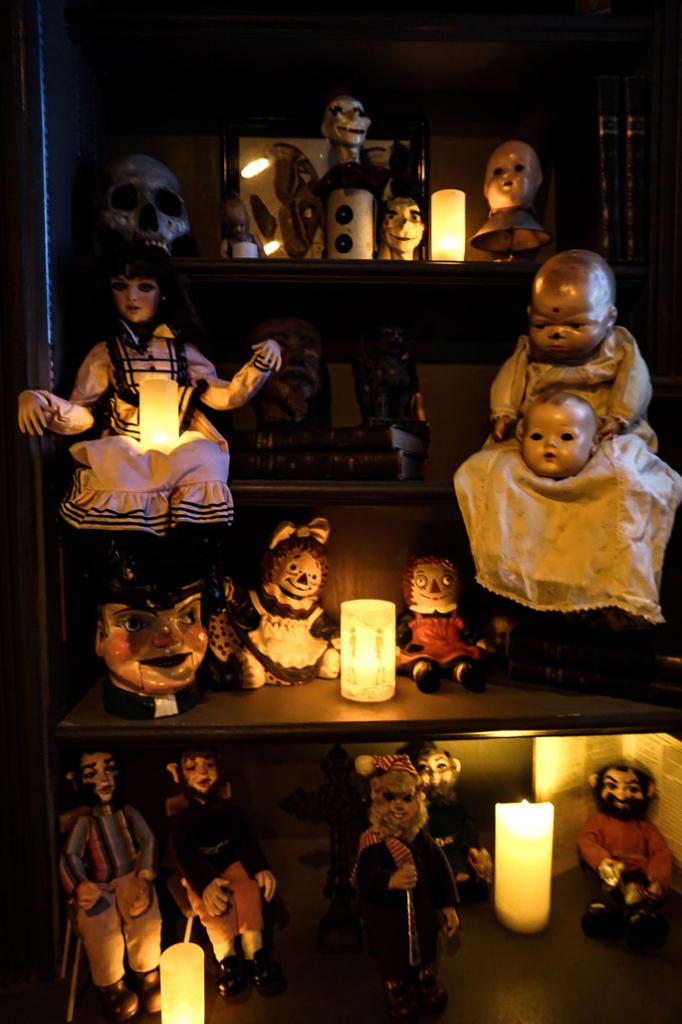 Sign the waiver and enter this haunted location at your own risk at 600 E Charleston Blvd, Las Vegas, NV 89104.
1. Bally's
The final destination on this list of the most haunted places in Las Vegas contains what is likely the darkest past. The hotel and casino, now known as Bally's, was previously the MGM Grand. This was before it caught fire during November of 1980. Unfortunately, many people became trapped within the hotel's upper floors during this disaster and a total of 85 people perished.
Though Bally's acquired, renovated and restored the hotel, it is still thought to contain some reminders of this horrible past. Since renovations were completed many strange occurrences within Bally's have been reported. Disembodied screams are apparently commonly reported to staff coming from the stairwells, apparitions have been sighted and the occasional waft of smoke will overcome some visitors. Two of the most regular ghosts thought to dwell within the hotel is that of a little boy who seems to be trapped on the 17th floor looking for his mother and the spirit of an elderly lady who many have seen casually playing slot machines with her dress aflame.
You will find Bally's at 3645 S Las Vegas Blvd, Las Vegas, NV 89109.
If you enjoyed this article you might also find interest in LA's most haunted places.
Thanks for reading!
Xoxo