Haunted Places in San Diego
San Diego exists at the very South of California and is said to be the state's birthplace. It is a wealthy, vibrant city laden in history from its early, Spanish and Mexican influences. Locations surrounded by such heavy history and containing old, beautifully restored buildings often come with the mystery of hauntings. San Diego is no exception to this, containing many extraordinarily haunted buildings. Here are 5 seriously haunted places in San Diego you can visit on your next trip!
5. Casa De Estudillo
Built in 1827 and residing in the appropriately named 'Old Town,' the Casa De Estudillo is notorious for housing multiple spirits. During its prime, the building was of great importance, being built for Presidio Commandant Jose Maria Estudillo. The house was a central location within San Diego and has been utilized as a chapel, town hall, school and shelter in addition to a home.
Today, the Casa De Estudillo functions as a museum and is thought to be one of the most haunted places in San Diego. Staff and patrons have reported spiritual remnants of former occupants existing in the home. Both intelligent and residual hauntings have been documented within the Casa De Estudillo. The ghosts of a depressed woman and a young child, both seen in period clothing, are thought to bare some relation to each other. Another male spirit exists and is known for having a hostile and aggressive attitude towards children and religious symbols. Numerous other spirits have been sighted including that of a monk and a male torso.
Beside apparition sightings, paranormal activity within the Casa De Estudillo manifests itself in many ways. Poltergeist activity such as doors and windows being slammed and items getting hurled towards visitors have been documented. EVP's (electronic voice phenomena) asking investigators to 'Get Out' have been recorded. Unexplainable light anomalies, perfume scents, screams and cold spots also commonly occur within the Casa De Estudillo.
The Casa De Estudillo is open most days, but it pays to check the opening times. It is free to enter and explore, set up as a museum. You'll find it at 4000 Mason Street, San Diego.
4. Cosmopolitan Hotel
Just alongside the Casa De Estudillo is another one of the most haunted places in San Diego, the Cosmopolitan Hotel. This National Historic Landmark was built as a family home between 1827 and 1829 by the extremely wealthy Juan Lorenzo Bandini. The magnificent house was one of the largest in the area and known for its wild, extravagant parties.
Bandini's death in 1859 saw the property sold to Albert Seeley, who worked to expand the building. An extra floor was created and it became a functional hotel, including dining and drinking areas. Today, the property has been restored and continues to function as a restaurant and hotel.
There are a number of tales describing the Cosmopolitan Hotel as a very haunted place. Many have seen apparitions throughout the building. These sightings include a women dressed in Victorian era clothing and young children who have been heard and seen playing. Staff have continued to report poltergeist activity throughout the years, manifested in bottles moving around in the saloon and chairs moving in the dining area.
Various rooms within the Cosmopolitan Hotel are thought to be haunted. Each of these includes a journal where guests can document their personal experiences from their stays. Room 11 is supposedly the most haunted, thought to be frequented by the ghost of Bandini's daughter, Ysidora. Her apparition has been sighted in this room and she's thought to move its curtains, mirrors and leave indents on its furniture. The spirit of Bandini himself is also thought to linger, with some believing they have received intelligent communication via EVP's from his spirit.
Finally, room 4 contains a unique haunting not linked to the Cosmopolitan Hotel's past, but a set of furniture acquired to finish the room. The spirit of a young girl who passed away is thought to be linked to the wooden bed frame, which contains a carving of her face within it.
You'll find the Cosmopolitan Hotel at 2660 Calhoun St, San Diego. It is open to guests as a restaurant and hotel.
3. Horton Grand Hotel
Another hotel of more glamorous taste stands out as one of the particularly haunted places in San Diego. The Horton Grand Hotel has history that dates back to when it was first constructed in 1887. Although later dismantled and meticulously re-assembled in 1986, and joined to another dismantled hotel (The Brooklyn Kahle Saddlery), the Horton Grand Hotel remains on the National Register for Historic Places.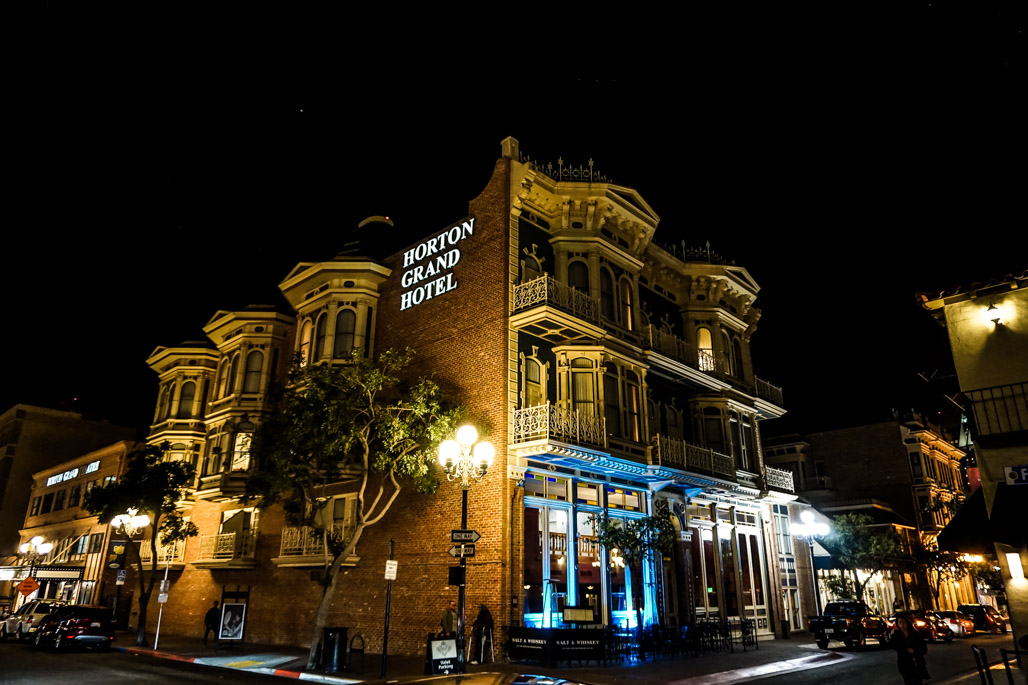 Room 309 is said to be the most haunted place to stay at the Horton Grand Hotel. Here, guests may come into contact with the ghost of Roger Whitaker. Roger lived during the mid 1800's and was a rather dishonest gambler, which lead to his downfall. One night Roger got himself into an altercation over money in which he sustained a gunshot. Roger, now injured decided to return to the safety of his hotel room at the Horton Grand. Unfortunately, Roger was followed back and murdered inside his room. To this day, he is believed responsible for the common strange occurrences within room 309. Guests and staff claim lights flicker, objects move on their own accord and a presence can be felt within the Horton Grand's Haunted room 309.
Roger is not the hotel's only ghost. Many claim to have spotted the entity of a woman dressed in Victorian era clothing within the Horton Grand Hotel's lobby. This female spirit is generally believed to be that of Ida Bailey. Ida, was the owner and operator of the Cat House, a successful brothel once located on the land the Grand Horton Hotel was built over. She is thought to cause cold spots and is described as being made of a white mist.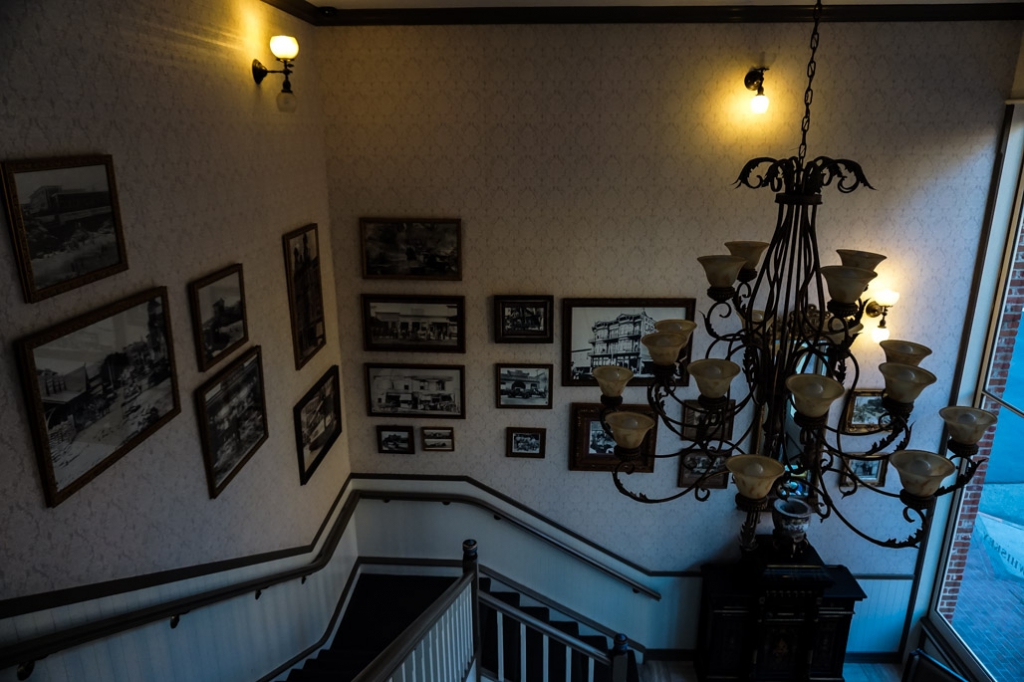 Residual hauntings have also been described by guests of the hotel. Many claim to have seen groups of people throughout the hotel distinctively dressed in 19th century clothing.
The Horton Grand Hotel can be found at 311 Island Ave, San Diego. It has a functioning restaurant, rooms for rent and is a grand space to host an event.
2. El Campo Santo Cemetery
El Campo Santo Cemetery in Old Town San Diego is just a sliver of what it once was. Built in 1849 and accepting bodies up until 1880, the El Campo Santo Cemetery remains one of the oldest in Southern California and is likely to be one of its most haunted. Unfortunately, the cemetery fell into disrepair at one point in time. It was abandoned and then built over to form a street car line. Today, the area has been privately purchased and protected. Many believe it to be such a paranormal hotspot from the many restless souls whose graves were forgotten when they were built over.
The Cemetery is claimed to be home to the ghosts of a woman dressed in Victorian era clothing, a Native Indian and a Hispanic man in 19th century garb, all seen walking through the graves before disappearing. Others have claimed to see Yankee Jim Robinson, who was hung on the grounds of the famously haunted Whaley House before it was constructed.
Adding to the paranormal activity that is strong in the area are reports of cold spots, light anomalies, shadow figures, electrical disturbances and poltergeist activity. During my own visit to the cemetery the batteries on my Spirit Box appeared completely drained causing the device to malfunction letting off a high pitch ring, only to later work perfectly. I also experienced a strong scent of cigar smoke as if I had just walked though a cloud of it.
The El Campo Santo Cemetery is located at 2410 San Diego Ave, San Diego. It is a small cemetery which can be accessed at all hours of the day and night, free of charge. Take care when navigating the area so as not to disturb any grave sites.
1. Hotel Del Coronado
Just off shore on one of San Diego's surrounding islands, sits a luxurious waterfront resort, well known for its beauty and apparent haunting. The beautiful Del Coronado Hotel opened its doors in 1888 and has since become a place for high profile individuals to gain respite.
The hotel gained notoriety, and its first ghost, in 1892 shortly after a young woman named Kate Morgan checked in. Kate checked into room 3312 (now 3327) and spent several days at the hotel before ending her own life, shooting herself on the staircase near the ocean. Her mysterious death captured the imaginations of many and the case became widely publicized. Many believe that Kate spent her last days waiting for a lover who never arrived.
Paranormal activity is frequently experienced by guests and staff inside Kate's room. The TV and lights are rumored to operate on their own, doors and windows move by unseen forces, temperature drops are felt and phantom voices and footsteps are commonly reported. Many have claimed to see Kate's apparition walking throughout various locations of the hotel.
Room 3519 is reportedly also haunted and linked to Kate Morgan. It is told that this was the room a maid, who became friends with Kate, lived. When Kate died, this maid supposedly attended the funeral, before disappearing without a trace. Since her disappearance many have claimed to experience strange phenomena within this room, some even leaving part way through their stay. Poltergeist activity, cold spots and electrical disturbances are amongst the most frequently reported activity.
A number of employees also claim their gift shop is haunted. Here, reports of trinkets flying off shelves and breaking on the floor are common.
The Hotel Del Coronado can be located at 1500 Orange Ave, Coronado. The beautiful resort is located right on the beach and provides many different activities for its guests to participate in. Room 3327 and 3519 can be requested in advance.
Visiting Haunted Places in San Diego
There are many great haunted places in San Diego one can visit. These are amongst just a few and I must give an honorable mention to the extremely haunted Whaley House. If you get the chance to visit San Diego, I recommend staying somewhere in Old Town. This area has great historical locations to visit, a great vibe and plenty of amazing food options.
Have any other favorite haunted places in San Diego I missed? I'd love to hear about them in the comments.
Thanks for reading!
xoxo