Haunted York England
York is a truly fascinating city full of history and medieval structures, such as the castle-like wall which continues to surround the city. Though modernized today, these pockets of remaining aged structures and ancient subterranean levels have led York to accumulate many ghost stories. Below is where you will find the most haunted places in York, England.
10. Lund's Court (Mad Alice Lane)
Lund's Court is a small and narrow pathway passed by thousands of unsuspecting tourists each day. This place has a famous ghost story which relates to its former name 'Mad Alice Lane.'
In 1825 a local York woman by the name of Alice Smith was arrested and executed by hanging at York Castle. Her crime being insanity. To this day many who have walked along Lund's Court have claimed to feel her presence or seen her. She appears as a full body apparition gliding swiftly down the alleyway.
Looking for the spooky Lund's Court, you find it at Lund's Court, York.
9. 41 Stonegate
Today 41 Stonegate is a cute little antique store, which spans across many floors and features a café. Though an unsuspecting location, this building contains a rather tragic ghost story.
The building is said to have once been the home of a wealthy doctor who would throw lavish parties, inviting many of the townsfolk to join. He had a young daughter of just 8 years old who was always interested in these extravagant affairs.
One night the daughter was sent to bed whilst a party was in full swing. She ascended the stairs to the top of the building where her room resided, yet not wanting to go to sleep yet, proceeded to spy on the party below from the top of the staircase. She leaned so far over the balcony that she lost grip and fell multiple stories to the basement below and her death. Ever since, the sounds of a child playing and the little girl have been sighted all throughout the address.
You can check out York's haunted antique store at 41 Stonegate, York.
8. Ye Olde Starre Inne
Ye Olde Starre Inne is one of York's older drinking establishments and thought to be one of the more haunted places in town. The building dates back to 1644, though some parts of it, namely the cellars, date back even further.
Not surprisingly it is these cellars which are thought to be one of the most haunted parts of the pub. Records show that the inn was actually made into a make shift hospital around the time of the English Civil War. The eerie and chilling sounds of soldiers crying out in pain reportedly emanate from the empty cellar. Staff have heard these on many occasions and can only assume them to be from the trapped souls of wounded or dying soldiers.
Other ghost stories exist within Ye Olde Starre Inne. There is the apparition of an older woman who is frequently sighted roaming through the pub. She is always shrouded in black and has mysterious origins, as no one truly knows who she may be. Then, there are the ghosts of two cats said to haunt the pub. They commonly appear behind the bar where their bodies are said to be encased behind a wall.
Looking for a spooky night out in York? Head to the haunted Ye Olde Starre Inne at 40 Stonegate, York.
7. Micklegate Bar
Micklegate Bar is the grand entrance to York from the South. It would have been where dignitaries arrived to the city visiting from London, having to pass through this gate to enter the medieval wall that surrounds York.
It is also the site where the heads and other body parts of traitors and wrong doers were displayed on spikes. This was a way of sending a message to anyone considering breaking the law. Though, funnily enough it is not the ghosts of these murdered traitors who are said to haunt Micklegate Bar.
The ghost of a young girl known as Sarah is thought to roam the area of Micklegate Bar. It is told that she was the daughter of the barbican and one day was given the responsibility of looking after her father's very important keys. Sarah somehow managed to lose these keys and is said to have spent the rest of her life in search for them. Legend states that the moment she located the keys she dropped dead. Her ghost has reportedly been sighted all throughout and around the gate and sometime the jingling of keys can be heard on a quiet, still night.
6. Bedern
Bedern is a quiet suburb within the town of York, yet it has a rather dark history associated with it.
Many years ago an orphanage existed in the area. This establishment was run by a man who was rather greedy and had a bad reputation within town as being a selfish drunk. He would spend much of the money he gained to care for the children of the orphanage on himself. This resulted in the children being neglected, suffering and starving. Many of them lost their lives under his care and were buried all throughout the area of Bedern, in his attempt to cover up his incompetence.
Grotesquely, during the Winter months when the ground was too frozen to dig into, the deceased children's bodies would be stored in a cupboard underneath the orphanage. Where they would rot and decay until they could be disposed of properly.
When new properties were constructed around Bedern many bodies of children were found buried within the ground. Residents now report the sounds and cries from suffering children echoing through the empty streets of Bedern late at night.
5. York Minster
York Minster is one of the most stunning sights one can lay eyes upon in York. The towering gothic cathedral, lined with intimidating gargoyles is actually one of the largest in Northern Europe. York Minster's age and foreboding appearance leave no surprises that it is one of York's most haunted locations.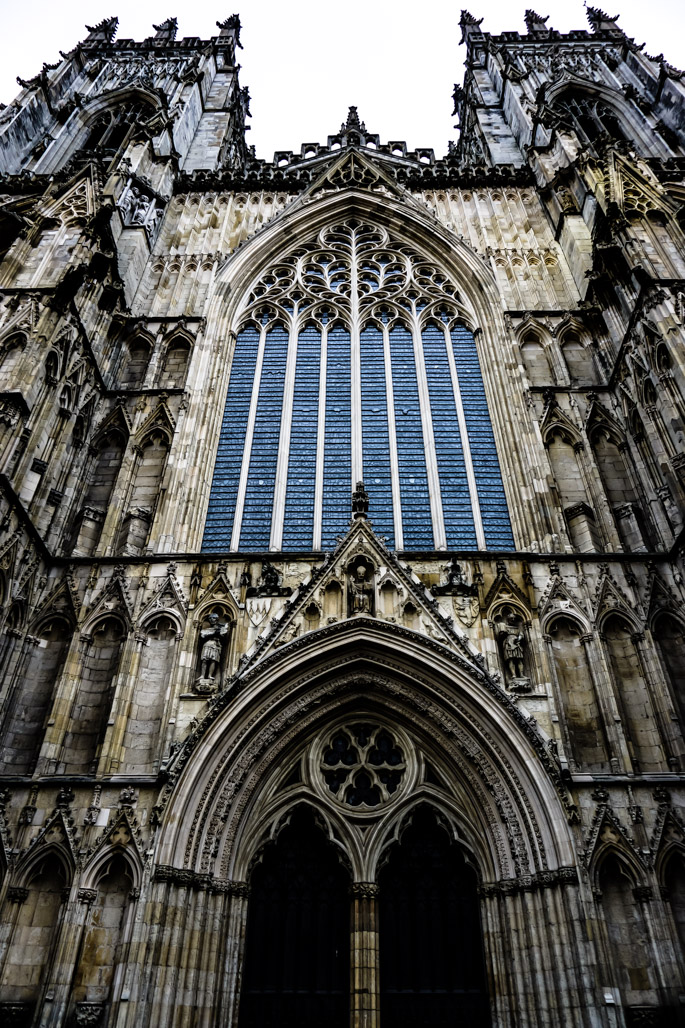 One of the most famous ghost stories of York Minster occurred back in the 1820's. Allegedly two women who were taking a tour through the Minster became separated from their group. During this time, they were approached by a tall man wearing a naval uniform. This man walked right up to the women and whispered into one of their ears, before disappearing into thin air. The story goes that the man was actually that woman's brother, who had recently died at sea whilst serving in the Navy. He had returned to let his sister know that there is an afterlife, making true on a pact they had made to do so while he was still alive.
Other ghost stories of the York Minster exist. Supposedly a man named Dean Gale has haunted the church since he died sometime at the beginning of the eighteenth century. Many have spotted him sitting, listening to sermons before dissolving into thin air. Rumors that a dog was walled up inside the church also exist. Many believe that this dog is responsible for the sounds of barks during the night, which echo throughout the grand halls of the minster.
Hoping to check out the haunted York Minster for yourself? You'll find the stunning church in Deangate, York.
4. York Brewery
York Brewery is a neat place to chill out and enjoy a selection of locally brewed beers. Like much of York, the land that the brewery sits upon has its own long and bloody history connected to it.
One of its ghost stories even inspired one of its signature brews called the Centurion Ghost Ale.
The story behind this beer starts with a former employee having a few drinks after one of his shifts. He drank a little too much and decided to take a nap in the cellar. When he awoke from his slumber he was greeted by the apparition of a Roman soldier standing over him. This spooked him so much that he fled the York Brewery, abandoned his job and never returned.
If you'd like to sample the Centurion Ghost Ale at the haunted York Brewery yourself, you can do so at 12 Toft Green, York.
3. The Treasurer's House
The Treasurer's House is a picturesque tourist attraction surrounded by quaint gardens. Though what lies beneath this building has gained notoriety and scared many.
Perhaps York's most famed and recounted ghost story is set at the Treasurer's House back in 1953. It was at this time a man named Harry Martindale was working in the underground cellars of the building as a plumber. Harry had reportedly heard the sound of a horn blowing off in the distance. He considered this strange, yet ignored the sound and continued his work. Soon he was caught by surprise as the horn, which had grown increasingly louder, seemed to enter the room. He turned to look over his shoulder and witnessed what he described as a Roman carthorse followed by a legion of Roman soldiers marching right through the cellar, disappearing through one of its walls.
Harry's description of these soldiers was odd at the time. He had mentioned that they were all cut off at the knees. Strangely his sighting gained legitimacy and made more sense years later when it was discovered that an old Roman road lies directly underneath the Treasurer's House. This road had been buried over the years, sitting around 15 inches lower than the current ground line. This suggests why the soldiers were cut off at the knees.
You can check out the haunted Treasurer's House for yourself at Minster Yard, York.
2. 5 College Street (The Plague House)
Residing on a quiet street overshadowed by York Minster resides a small house. Most do not notice the house as they pass by, though 5 College Street is known locally and tainted as The Plague House. It is here that York's most frequently sighted ghost appears in a small window at the front of the property.
This ghost story's origins begin many years ago. It is told that a couple lived in this home who were deathly afraid of contracting the black plague. To avoid coming into contact with those infected, they rarely left the house and would use their young daughter to run errands, such as picking up food at the local market.
Legend has it that one night as the mother of the young girl was laying her down in bed, she noticed black boils that had formed underneath her daughter's eyes. She proceeded to tuck her in, then locked her within her room. That night the girl's mother and father fled York. They left their daughter behind, locked in her room and painted a large red X on the door of their house as a warning of what was inside.
Sadly, many would have seen the young girl screaming, clawing and scratching at the small window that fronts this home, yet offered no assistance to her out of fear.
The young girl is said to have died, afraid and alone within her bedroom. Her spirit is now thought to haunt her former room. Many have sighted her, desperate to escape at the window. Some have been so concerned that they knocked on the door of the residence to ask the occupants if their daughter was alright. Their response remains the same, we do not have a daughter.
If you want to gaze upon this window yourself, you'll find the Plague House at 5 College Street, York.
1. The Golden Fleece Inn
The Golden Fleece Inn is a narrow building squashed and held in between two others, with a fierce reputation for being one of the most haunted places in York. The inn has existed for an extremely long time, first being mentioned in records back in 1503, though rebuilt during the 19th century.
Today, the inn is still in operation as lodging and a pub. It celebrates its own and the wider city of York's haunted history by displaying framed ghost stories on its walls from the area. But it is the Golden Fleece's own ghost stories which manage to send chills down the spines of its visitors.
The most famed haunting of the Golden Fleece Inn is that of Lady Alice Peckitt. Alice once lived next door to the inn and was married to the Mayor of York. Following her death, customers began reporting sighting the apparition of a lady all throughout the Golden Fleece, which many believe to be Alice.
Another famous and often recounted ghost story of the Golden Fleece Inn occurred on the top floor of the building. Legend has it that after WWII a Canadian airman was staying in the top room of the inn. It is unknown whether his death was accidental or suicide, but he fell from the top floor's window onto the street below, losing his life and snapping his neck in the process. His ghost is rumored to haunt the top room of the Golden Fleece Inn and has been sighted by many who have spent the night there.
Though there are thought to be several other spirits in the inn, the final haunting which has become quite famous occurs in the back bar, downstairs. It is here that a fellow known as One Eyed Jack appears to guests, sporting red boots and a 16th century coat and pistol.
Brave enough to spend the night or stop by for a beer at the haunted Golden Fleece Inn? You'll find York's most haunted inn at 16 Pavement, York.
Haunted York, England
York's long history paired with its many old structures both existing and no longer standing have made it a hotspot for the paranormal.
Visiting York is an interesting trip and there's lots of places both spooky and touristy to explore. There are multiple ghost tours that exist in the area, or you can check out my own virtual ghost tour video!
If you enjoyed this read and are looking for other haunted places to explore in England, I recommend Birmingham's haunted Aston Hall.
Thanks for reading!
xoxo